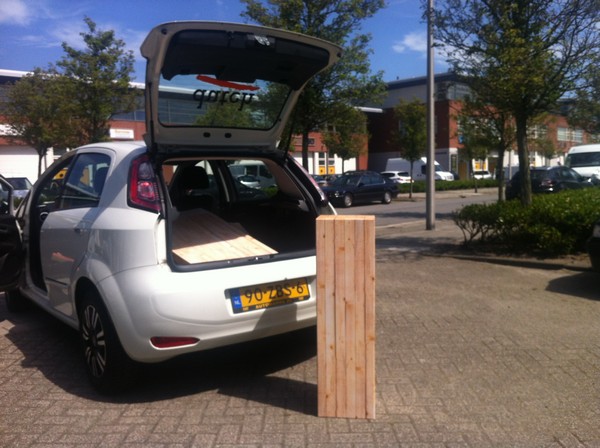 But our demands for quality seemed just too much of a challenge: the seams at the corners did not fit neatly and our creations still remained heavy and rather fragile.

Then cardboard came into our sights. Cardboard is lightweight, strong and can be folded in and out. Perfect! As always it was quicker to get the idea than to solve the problems: how to get a very neat finish, how do you easily fold them away and store them. Many varieties of cardboard and solutions passed our quality control and now finally we have bright white cardboard pedestals in our line up. We can even print or label these with our customer's logos or marketing campaigns.

In order to set up trendy and eye-catching exhibitions with cardboard plinths we scouted for beautiful designs. For this we started a partnership with the world-renowned Dutch Design brand. This design company is known for its beautifully designed cardboard stools. They have design experience with high quality cardboard and now we are able to offer our clients more options in display pedestals made from cardboard. We are pleased with the results: The Dutch Design Display in two beautiful prints. The Dutch Design Concrete for an industrial look and the Dutch Design Display woodstack for a natural wood character.

Very soon it became clear that these plinths are excellent displays for pop-up stores. And this is exactly what the TomToy Gallery thought. The wanted a way to really put the focus on their sustainable products in a shopping centre the Netherlands. So pretty soon one employee from the TomToy Gallery popped up in her Fiat Punto and loaded 16 plinths in her car by herself, within no time these were on up and running in their pop-up store.

And that was exactly our idea behind the innovation: no schlepping around and not even a truck required.

16 plinths in one car


Cardboard plinths and pedestals are perfect for events! And if you think that cardboard can't carry any weight, you'll be surprised: thanks to our innovative internal cross construction, our plinths can easily carry a weight of 75kg. So why don't you get on top and put yourself on a pedestal!

Cardboard is a perfect match for pop-up stores.